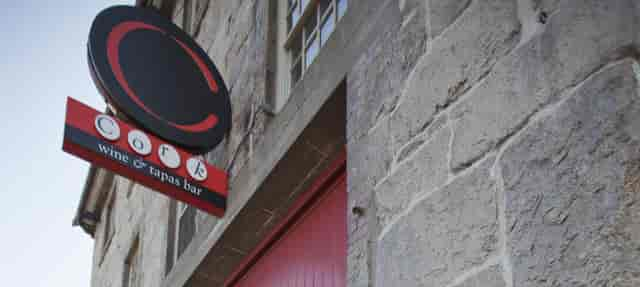 Visit Cork
By land or sea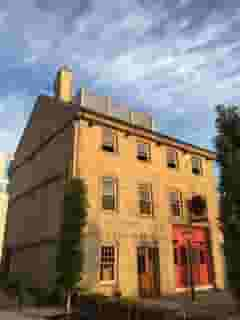 VISIT US IN THE HEART OF DOWNTOWN BEDFORD
Cork is located in Historic Downtown New Bedford, a five minute walk away from the New Bedford Whaling National Historical Park Visitor Center. We're right around the corner from the Whaling Museum and the National Historical Park, and right across the street from the seaport.

Year round, show goers at the Zeiterion Theatre find us a fantastic spot for that before-show dinner or the after-show drink. As well, we're a regular stop on AHA! nights; art, history, architecture, great food and great drinks are always a winning combination.

During warm months of the year, Cork is a popular stop for ferry-goers going to and from Martha's Vineyard.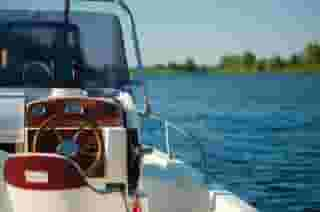 Getting to Cork by boat is really quite easy!
Once you arrive at the hurricane barrier (the entrance to New Bedford harbor) you have 2 options:

1. Head north in the channel to the mooring field. Look for the yellow moorings marked HDC. These are for transient boaters. They are free for day usage or $35 overnight. The Harbor Master can be reached on Channel 9. If you have a dinghy you can tie up at the dinghy dock at the base of Union Street right across from Cork. Without a dinghy? Whaling City Expeditions (www.whalingcityexpeditions.com) offers water taxi & launch services. They can be reached by calling Channel 72 or 508-984-4979.

2. Popes Island Marina is situated just north of the mooring field. Call 508 979-1456 for a reservation. Once you're settled contact Whaling City Expeditions for pick-up or ask the Marina to call you a cab to take you Downtown.
Getting Here
Cork is conveniently located in the heart of the SouthCoast; a quick ride from Wareham, Rochester, Mattapoisett, Acushnet, Fairhaven, Dartmouth, Westport, & even Cape Cod & Rhode Island. We are right off JFK Memorial Hwy, MacArthur Dr, and around the corner from the main road through town, Union Street. Cork is just a hop away from other popular eateries and bars such Rose Alley, DNBurgers, Slainte, and Waterfront Grille.

For Thursday – Sunday evenings when parking can be non-existent, we offer complimentary valet service. Just park your car in front of our door, and let us take care of the rest.

From Providence:
Take 195 East to RT-18 S via EXIT 15 toward Downtown/New Bedford.

From Boston:
Take I-93 S/US-1 S toward I-95/Dedham/Providence. Merge onto RT-24 S via EXIT 4 on the left toward Brockton. Merge onto RT-140 S via EXIT 12 toward New Bedford. Merge onto I-195 E via EXIT 2A toward Cape Cod. Merge onto RT-18 S via EXIT 15 toward Downtown/New Bedford.

From Newport:
Take RI-24 N toward I-195/Fall River/Providence (Crossing into Massachusetts). Merge onto I-195 E toward New Bedford/Boston. Merge onto RT-18 S via EXIT 15 toward Downtown/New Bedford.

From Cape Cod:
Merge onto I-195 W via EXIT 1 toward New Bedford/Providence RI. Merge onto RT-18 S via EXIT 15 toward Downtown/New Bedford.
New Bedford
90 Front Street
New Bedford, MA 02740

Hours
Wednesday - Saturday:
4:00 pm - 8:00 pm